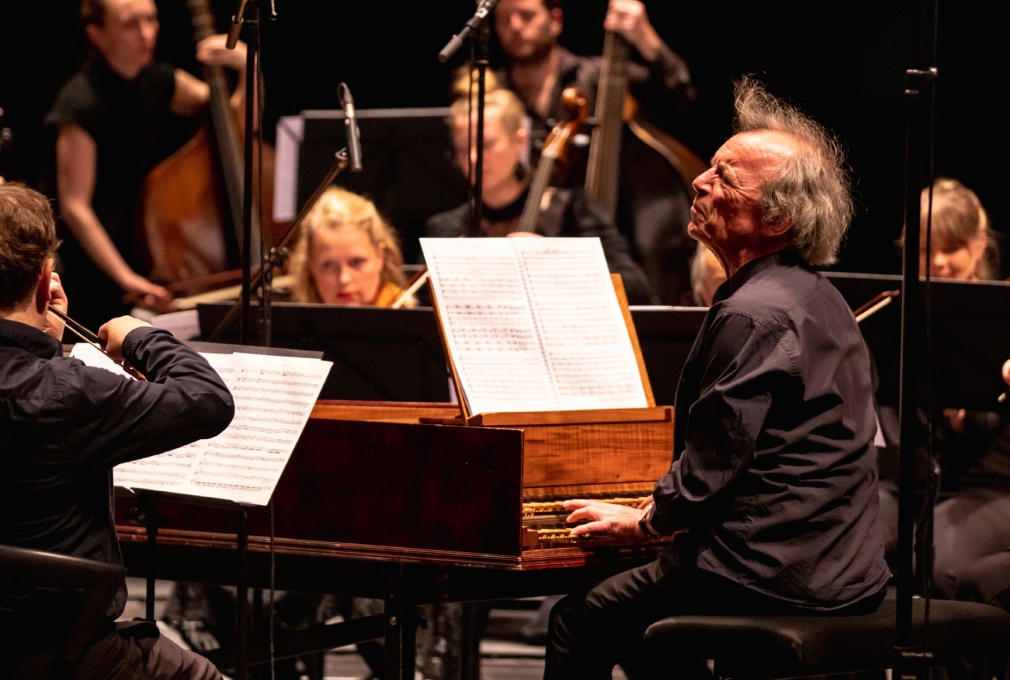 Eglise de Steinsel
CONCERT 2 - Concerto Copenhagen
Concerto Copenhagen played its first concert in 1991 and has since developed into Scandinavia's leading early music ensemble, joining the league of the world's most exciting and innovative Baroque orchestras. Original interpretations and a strong ability to communicate with the audience are among Concerto Copenhagen's hallmarks – making old music vital, relevant and contemporary. In 1999 the internationally acclaimed harpsichordist and chamber musician, Lars Ulrik Mortensen, became the ensemble's chief artistic director, he was awarded the coveted Léonie Sonning Music Prize in 2007.
Scandinavian Origins
The collaboration between Concerto
Copenhagen and Lars Ulrik Mortensen has led to an exciting artistic and musical
journey, appreciated and praised by
audiences and critics worldwide, and combining a repertoire of well-known European music with less familiar works of Scandinavian origin.
Over the years Concerto Copenhagen has collaborated with many internationally renowned artists in the Early Music scene, including Emma Kirkby, Andreas Scholl, Anne Sofie von Otter, Sonia Prina, Vivica Genaux,
Andrew Manze, Andrew Lawrence-King,
Reinhard Goebel, Ronald Brautigam, Jordi Savall, and Alfredo Bernardini,
the orchestra's principal guest conductor.
During the period 2015 – mid 2017 the Danish composer Karl Aage Rasmussen is composer-in-residence with Concerto
Copenhagen and accompanies the
orchestra on an adventurous expedition into the world of contemporary music. This collaboration has already led to world
premieres receiving high critical acclaim!
International Attention
Concerto Copenhagen's CD recordings for CPO, Deutsche Grammophon and BIS, as well as DVD productions for Harmonia Mundi and Decca have attracted worldwide attention and won several international awards. This has led to invitations from many of Europe's leading concert venues and festivals, as well as extensive tours to the USA, Japan, Brazil, Mexico, Australia
and China. International reviews reflect the experience of a world orchestra at the highest level.
Concerto Copenhagen's collaboration with Italian opera director Deda Cristina
Colonna has led to highly successful opera productions in the orchestra's hometown
Copenhagen. In November 2021 Concerto
Copenhagen celebrated its 30th anniversary.
Partners and Sponsors
Concerto Copenhagen's media partner in Denmark is DR P2 Musik (National Classical Channel). Most live concerts are
recorded and broadcast in Denmark as well as via the EBU network in most parts of the world, thereby reaching an average of 15
million radio audiences each transmission! In
Denmark, Concerto Copenhagen enjoys a close collaboration with The Royal Theatre with an average of one opera per season. Recent productions include works by Purcell,
Monteverdi and Mozart as well as performances of a selection of Handel's most beloved operas, featuring counter-tenor
Andreas Scholl as the lead role in both Julius Caesar and Partenope.
The orchestra is supported by the Danish Arts Council and is regarded as Denmark's leading musical export within the field of classical music.
Concerto Copenhagen musical authenticity and innovation
Since its first concerts in 1991, Concerto Copenhagen (CoCo) has developped into Scandinavia's leading orchestra in Early Music – Baroque, Classical and Early Romantic. With artistic director, conductor, and harpsichordist, Lars Ulrik Mortensen, at the helm, CoCo has become synonymous with a special, methodological approach to working with historical material. CoCo unites artistic authenticity and innovation – through original and uncompromising interpretations, the music is given new life and renewed relevance to a modern audience. Since 1999, the collaboration between CoCo and Lars Ulrik Mortensen has led to an exciting artistic and musical journey – appreciated and praised by audiences and critics around the world. With a unique repertoire that combines well-known European music with lesser-known works of Scandinavian origin as well as new music, CoCo marked its 30th anniversary in 2021. In 2022 CoCo is DR P2 Artist of the Year. Lars Ulrik Mortensen – artistic director of Concerto Copenhagen, conductor, and harpsichordist Lars Ulrik Mortensen has been active as a conductor for 25 years, and for almost 20 years he has worked exclusively with period instruments and original performance practice. He has toured most of the world and played with some of the most prominent international Early Music ensembles, including Holland Baroque Society, Irish Baroque Orchestra, Nederlandse Bachvereniging, and Collegium 1704. He has participated in many iconic recordings – released by Deutsche Grammophon/Archiv Produktion, ECM, EMI, Naxos and cpo. In the early years, Mortensen studied at the Royal Danish Academy of Music and afterwards with Trevor Pinnock in London. Between 1996 and 1999, he was professor of harpsichord and performance practice at the Hochschule für Musik in Munich, and he continues to teach at prestigious institutions around the world, including Mozarteum Salzburg, Sibelius Academy in Helsinki, and The Juilliard School of Music in New York. Mortensen has been the artistic director of Concerto Copenhagen since 1999 and is today the Epitome of the orchestra's artistic, creative, and cultural identity. In 2007, he received Denmark's most prestigious music award, the Léonie Sonning Music Award, and since then he has continued to further develop and refine his artistic work. www.coco.dk
Bass-baritone Jakob Bloch Jespersen received his Diploma at the Royal Danish Academy of Music in 2004 and completed his further studies at the Opera Academy in 2007. In 2013, Jakob Bloch Jespersen was awarded the Music Reviewers' Artist Prize, in 2014 the Aksel Schiøtz Prize, and in 2020 the Music Price of the Danish Composers' society. Jakob Bloch Jespersen made his stage debut at the Royal Danish Theatre in 2006, where he has subsequently also taken part in Carl Nielsen's Maskarade and Henry Purcell's The Fairy Queen with Concerto Copenhagen, under the leadership of Lars Ulrik Mortensen. Worth mentioning is also his role as Leporello in Mozart's Don Giovanni at the Norwegian National Opera, as well as a large number of roles in contemporary music theatre and opera. As a concert singer, Jakob Bloch Jespersen is in demand throughout Europe, with a repertoire ranging from the 17th to the 21st century. He has especially concentrated on German Baroque music in collaboration with such ensembles as Concerto Copenhagen, Nieuwe Philharmonie Utrecht, and Australian Brandenburg Orchestra, and in the modern repertoire with ensembles such as Theatre of Voices, Kammerensemble Neue Musik Berlin, and London Sinfonietta.
Franz Tunder
(1614-1667)
Da mihi, Domine
Johann Balthasar Erben
(1626-1686)
Sonate Ut-re-mi-f-sol
Johann Valentin Meder
(1649-1719)
Gott, hilf mir
Gottfried Kirchhoff
(1685-1746)
Suite in G-moll
Dietrich Buxtehude
(1637-1707)
Mein Herz ist bereit
BuxWV 73
Johann Heinrich Schmelzer
(1623-1680)
Harmonia
Dietrich Buxtehude
Ich bin eine Blume zu Saron
BuxWV 45
Matthias Weckmann
(1616-1674)
Toccata in a-moll
Kommet her zu mir alle
Jakob Bloch Jespersen
Bass
Fredrik From &
Hannah Tibell
Violine
Antina Hugosson &
Kanerva Juutillainen
Viola
Hanna Loftsdottir
Gambe
Jane Gower
Dulzian
Lars Ulrik Mortensen
Cembalo, Orgel und Leitung
CONCERT 3 - LES TRAVERSÉES BAROQUES
5.02.2023 - 17h00
CONCERT 4 - Ensemble Delectus Cantionum
26.02.2023 - 17h00
CONCERT 5 - ENSEMBLE ASTROPHIL & STELLA
12.03.2023 - 17h00
CONCERT 6 - MUSIQUES SACRÉES À LA CATHÉDRALE DE PUEBLA
26.03.2023 - 17h00